Explore our technology showcase to learn about the automated and low-emission equipment that is enabling TraPac to offer unmatched cargo efficiency and sustainability.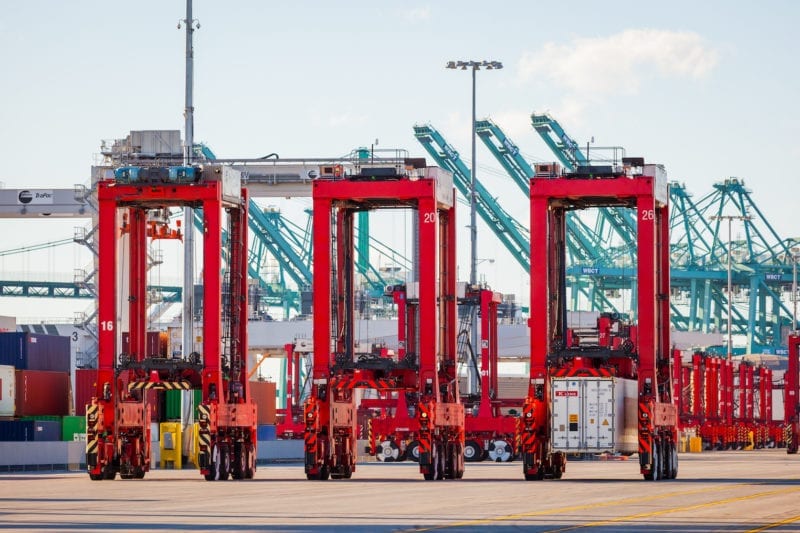 Automated Straddle Carrier ("Autostrad")
The Autostrad vehicles move containers between the water-side transfer area, container stacks, U.S. radiation scanner, and the on-dock rail area.
The Autostrads are low-emission hybrid-electric vehicles, and navigate based on virtual routes within 2cms accuracy, providing unmatched reliability and efficiency.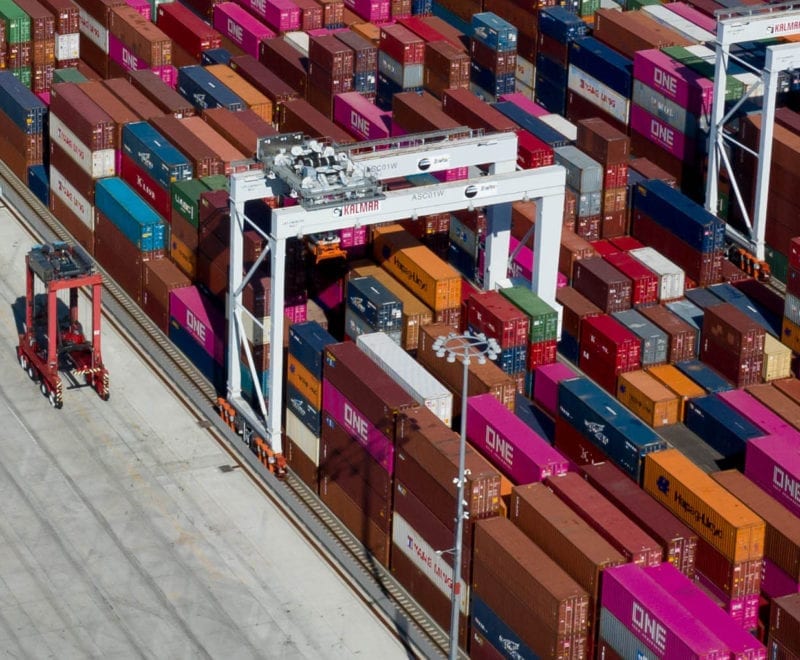 Automated Rail Mounted Gantry Cranes (RTGs – Stacking)
The RTGs are used to stack containers that need to be stored, sorted and prepared for pick up.
RTGs combine high stacking density with excellent maneuverability, and can be managed remotely in safety. The RTGs are fulling electric, emitting zero emissions.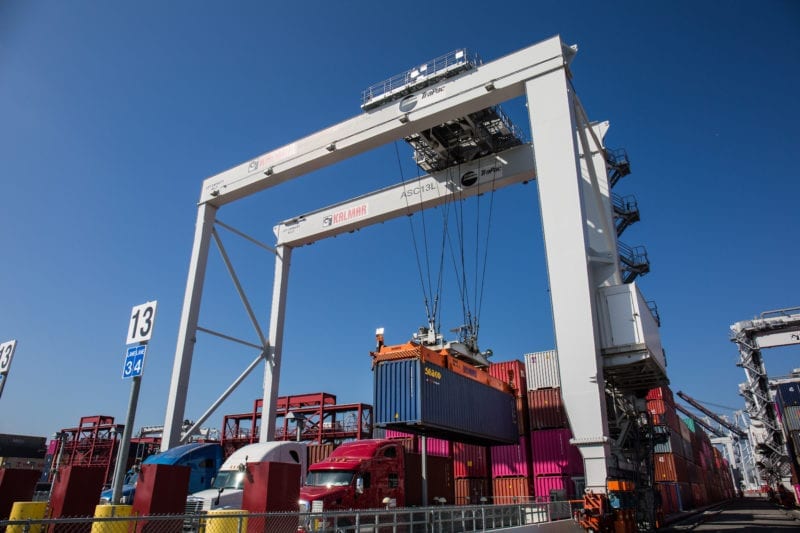 Automated Truck Handling System (ATHS)
The driver is directed to pull into a designated lane, where they step out of the cab to wait in a secure access booth while the container is lowered to or picked up from the chassis.
This integrated system enables containers to be available for pick up within 15 minutes of being unloaded from a ship, which has significantly reduced truck turn times and reduced idle truck emissions.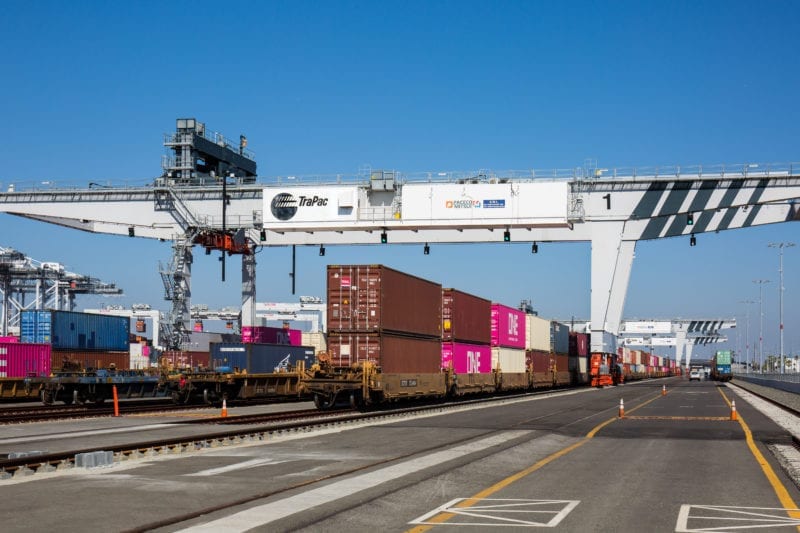 Automated Rail Mounted Gantry Cranes (RTGs – On-Dock Rail)
The RTGs load and unload containers from the On-Dock Rail facility that connects to the Alameda Corridor, a 20-mile freight rail expressway that links the Southern California Ports to the national rail system.
The RTGs can build four full trains each day, allowing cargo owners to receive their goods up to 2 days faster than ever before.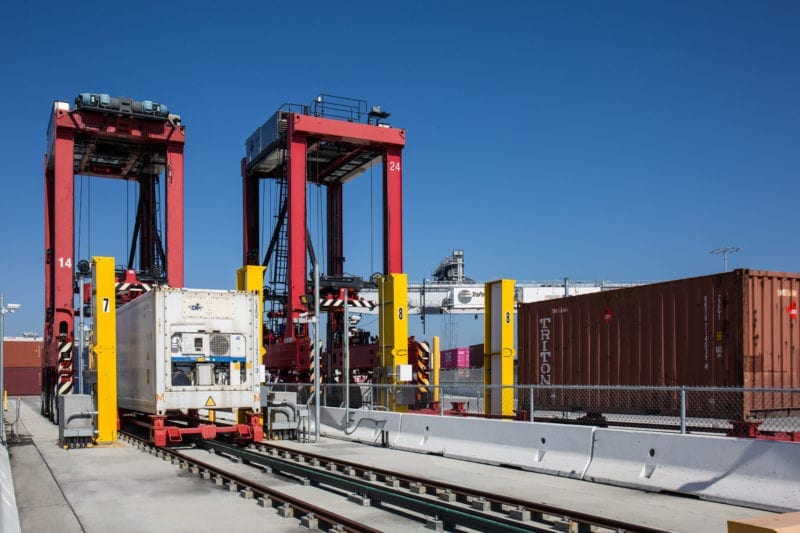 Automated Radiation Monitoring System
For containers scheduled to be moved via TraPac's on-dock rail, an automated straddle carrier moves the container through a radiation portal monitoring system without taking the container out of automation.
This integrated system improves efficiency and cargo velocity.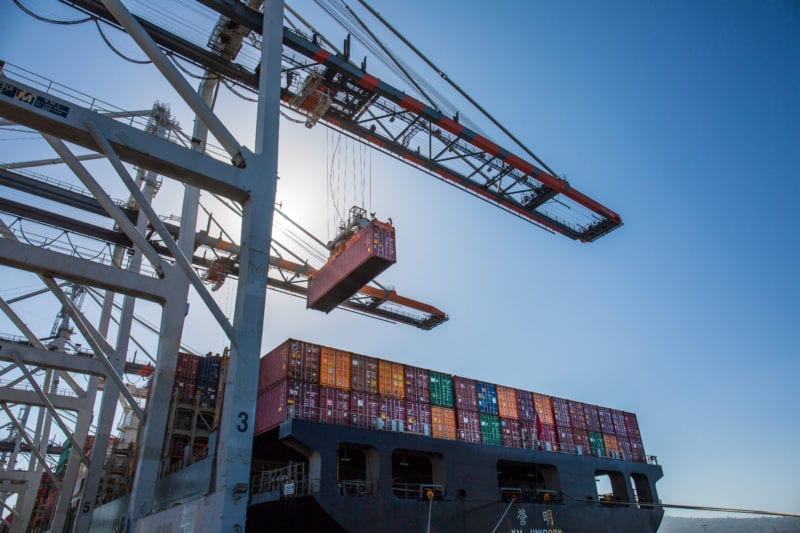 Ship-to-Shore Gantry Cranes
Los Angeles, Oakland & Jacksonville Terminals
While vessels are docked at one of our terminals, containers are unloaded from the ship by a ship-to-shore crane that can service ships up to 14,000 TEUs.
TraPac's ship-to-shore cranes are "big ship ready" and are fully electric, emitting zero emissions.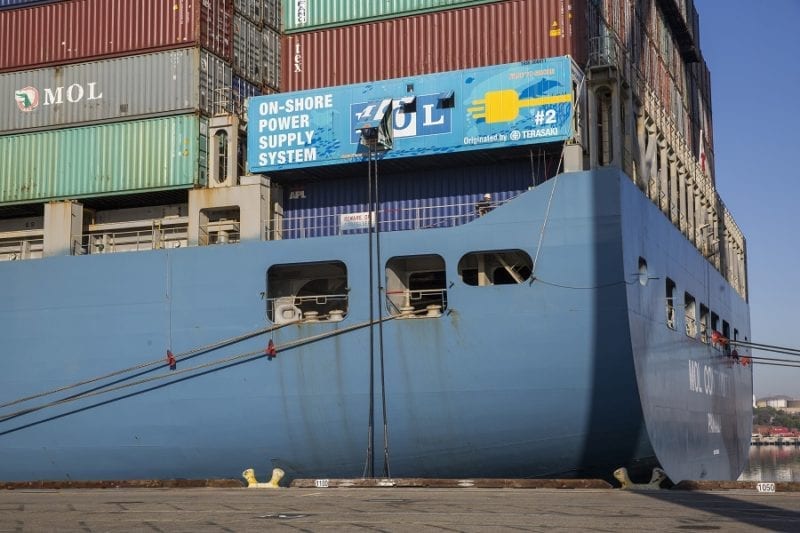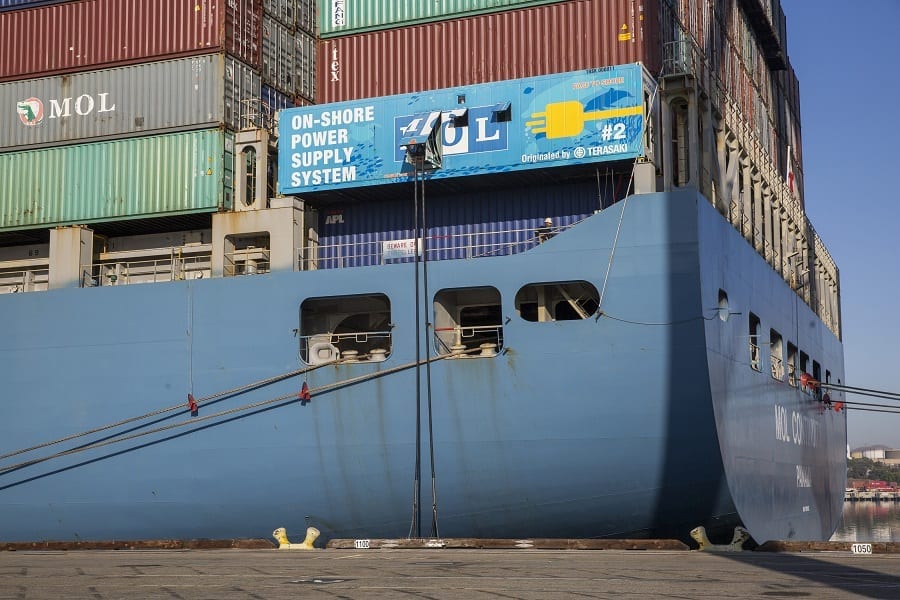 Alternative Maritime Power (AMP)
Los Angeles and Oakland Terminals
AMP enables a ship to plug into the electrical grid for on-board power so it can shut down its auxiliary engines while at berth.
In addition to eliminating 95% of all vessel emissions, AMP also lessens noise pollution and frees up engines for maintenance while ships are at berth.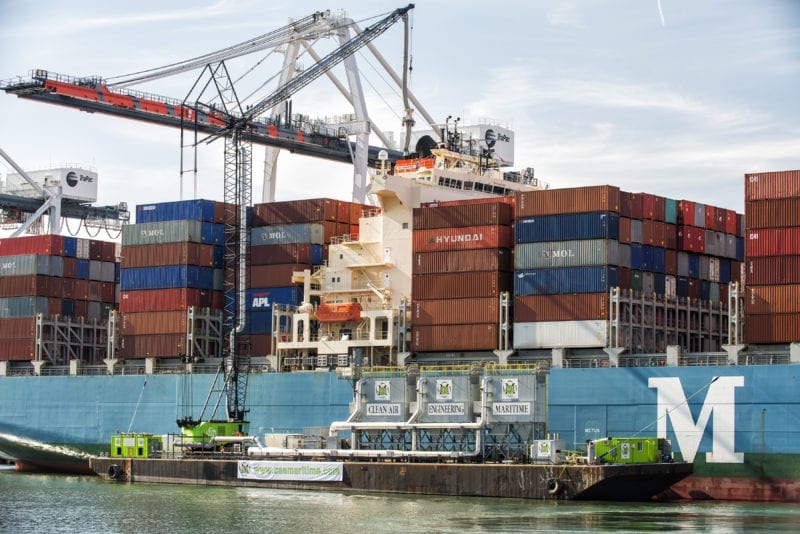 Bonnet (Vessel Emission Capture) System
The bonnet technology captures emissions at the smokestack of the vessel and processes the exhaust through a series of emission control systems.
For ships that are not AMP-capable, this system provides an alternate means of capturing vessel emissions.
Click on a technology below to learn more