OUR FOCUS
Providing a safe environment has been one of the core tenants of TraPac's operating philosophy since we were founded more than 30 years ago.
Each year, TraPac's Los Angeles and Oakland terminals handle 1.5 million TEUs of import and export cargo for our customers, ranging from refrigerated products to auto parts and everything in between. As cargo volumes continue to increase, TraPac is pioneering innovation that will enable us to continue moving cargo through our terminals quickly and safely. In order to ensure the safe transport of our customers' cargo as it enters and leaves our terminals, TraPac has implemented a number of technologies and policies.
As we invest in new infrastructure and technology at our terminals, we examine ways to:
REDUCE THE CHANCE OF INCIDENCE/INJURY
HEIGHTEN SECURITY FOR PERSONNEL AND CARGO
MINIMIZE CUSTOMER RISK AND DELAYS
Employee Training
TraPac conducts regular accident prevention and response training with stakeholders that work in our terminals.
24 Hour Security
TraPac's terminals are surrounded by secure access gates around our landside operations so that we can regulate entry in and out of the property. Additionally, we have a security staff that patrols all zones of the terminals on the ground and via a state-of-the-art camera system 24 hours a day, 7 days a week.
"TraPac is proud to have won first place for the 2017 Coast Accident Prevention Award by the Pacific Maritime Association."
Stephen Edwards, CEO, TraPac
Restricted Terminal Access
Before entering our property, all trucks must be enrolled in the Port Drayage Truck Registry and obtain a Radio Frequency Identification (RFID) tag. Our gates are equipped with RFID tag readers to ensure that only approved trucks gain access, as well as to verify that all trucks comply with current safety and environmental requirements.
7 Safety Awards
from leading industry associations
24/7 Security
on-site security at each of our terminal locations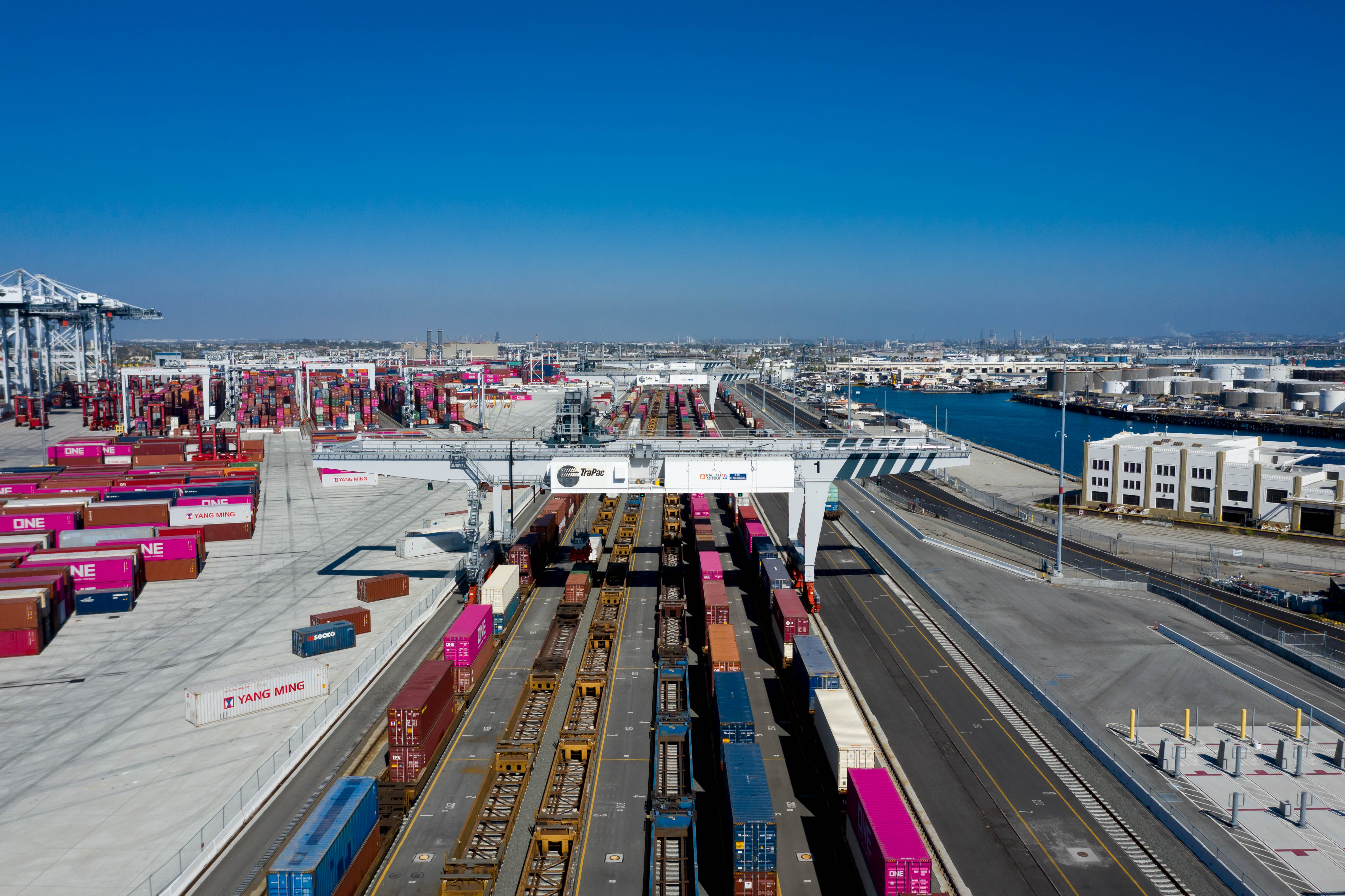 Secure Equipment Operating Zone
To maximize productivity while maintaining the highest safety standards, TraPac's Los Angeles terminal uses a combination of electric and hybrid automated straddle carriers, automated stacking cranes, and rail mounted gantry cranes for on-dock rail. The fully automated process, which occurs behind a fenced in area, minimizes the potential for human error and improves safety, helping TraPac avoid unexpected interruptions that impact productivity.
Safe Cargo Pick Up & Delivery
TraPac's Los Angeles terminal automates a terminal's landside operation for safer and more efficient service. Upon entry to the terminal, the driver is provided a designated lane number. The driver proceeds to the lane, where they then step out of the cab to wait in a secure access booth. A sensor inside the booth lets the crane operator know that the driver is safely inside and it's safe to proceed.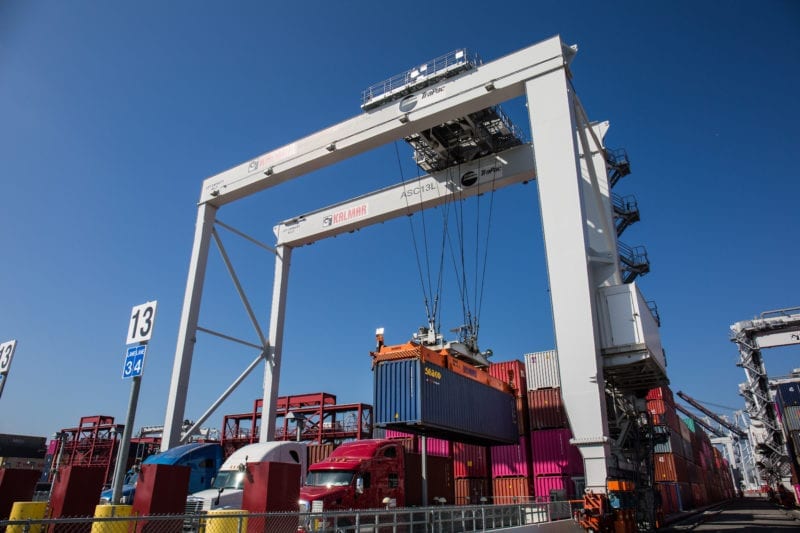 Featured Technology
Automated Truck Handling System (ATHS)
The driver is directed to pull into a designated lane, where they step out of the cab to wait in a secure access booth while the container is lowered to or picked up from the chassis.
This integrated system enables containers to be available for pick up within 15 minutes of being unloaded from a ship, which has significantly reduced truck turn times and reduced idle truck emissions.
Integrated Customs Scanning
TraPac's Los Angeles terminal was the first to collaborate with U.S. customs and Border Protection to move containers through the radiation portal monitoring system without taking the containers out of automation before being loaded onto our on-dock rail. The system enables TraPac to quickly process cargo without compromising on safety.
Security Against Terrorism
In 2019, TraPac Los Angeles was certified by the Customs-Trade Partnership Against Terrorism (C-TPAT) initiative led by U.S. Customs and Border Protection (CBP), which focuses on improving the security of private companies' supply chains with respect to terrorism. Organizations who achieve C-TPAT certification have a documented process for determining and alleviating risk throughout their international supply chain.