OUR FOCUS
The Ports of Los Angeles and Oakland, where TraPac operates terminals, are major economic engines for California. As the global shipping industry continually evolves—including the migration toward mega ships, growing cargo volumes, higher fuel costs and the need to lower emissions—TraPac is focused on staying ahead of trends that impact the future of its business. TraPac continues to invest in efficiency technologies that improve cargo velocity and reliability as part of our commitment to premium service for premium shippers.
As we continue to modernize our terminal operations, we are implementing initiatives that:
INCREASE EFFICIENCY AND PRODUCTIVITY
ENHANCE SUPPLY CHAIN SUSTAINABILITY
PROVIDE SUPERIOR CUSTOMER SERVICE
24-Hour Operating Capabilities
To maximize efficiency while maintaining the highest safety standards, TraPac's Los Angeles terminal uses a combination of electric and hybrid automated straddle carriers, automated stacking cranes, and rail mounted gantry cranes for on-dock rail. The automated process enables us to conduct yard operations virtually round the clock and minimizes the potential for human error and improves safety, helping TraPac avoid unexpected interruptions that impact productivity and profitability.
Real-Time Container Tracking
As soon as a container is unloaded from a vessel, its container number is scanned into the Electronic Document Interchange. From there, the shipper is able to check its pickup status directly with the terminal. In our fully automated terminal, the container can be ready for pick up by truck within 15 minutes from being unloaded.
1st in California
to implement automated truck handling system, on-dock rail, and customs scanning
2 Days
the amount of shipping time saved by BCOs using our on-dock rail in LA
15 Minutes
how quickly cargo is available for pickup by truck after unloaded from vessel in LA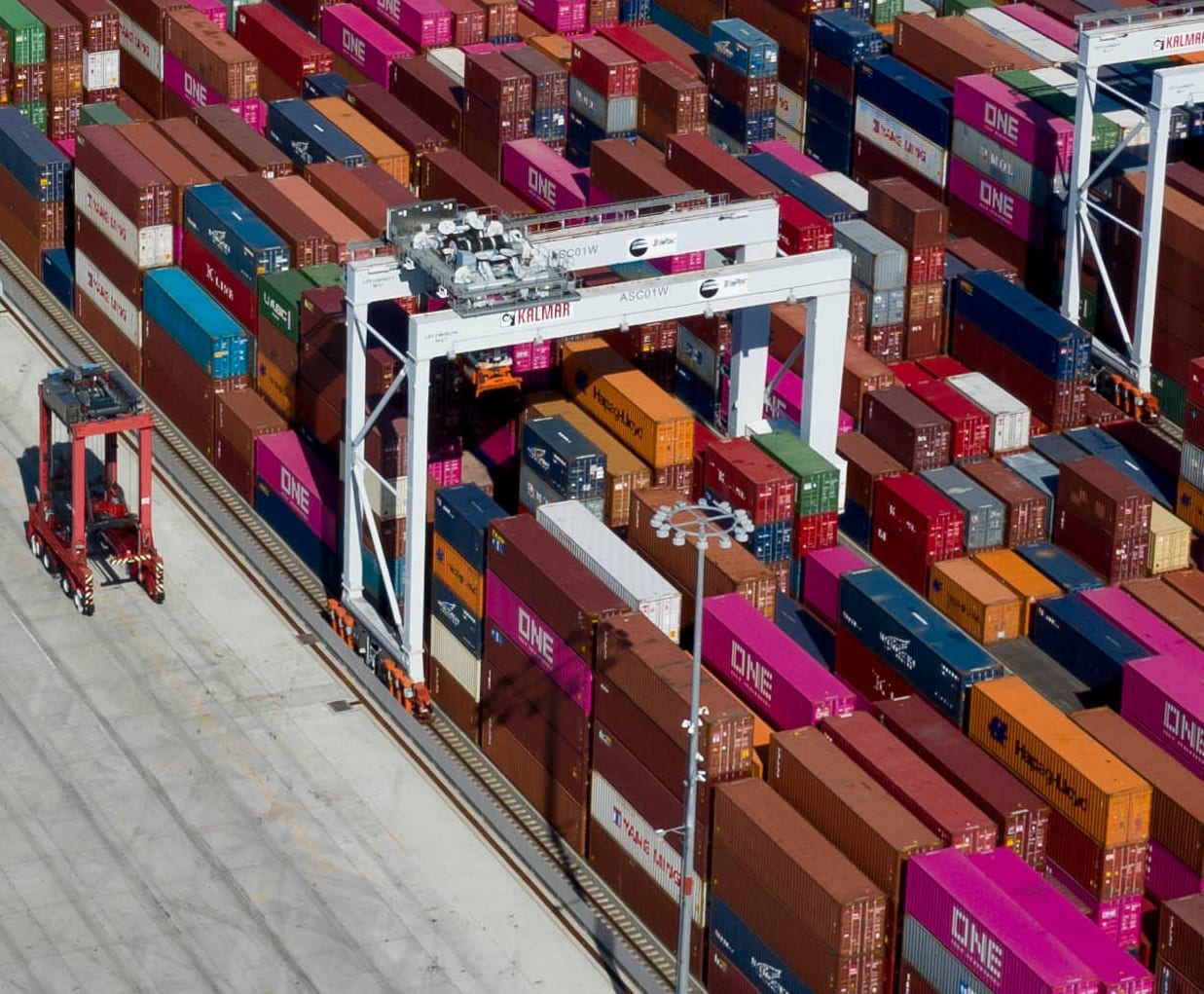 Faster Truck Turn Times
TraPac's Los Angeles terminal offers the first solution in the world that automates a terminal's landside operation for safer and more efficient service. With the automated truck handling system at TraPac, trucks can expect to get in and out of the terminal faster, which means more daily pick-ups and drop-offs. Additionally, BCOs can expect to receive their goods faster than competing terminals. From the time that a container is unloaded from a vessel and scanned into the Electronic Document Interchange, the freight trucking company can pick it up in as little as 15 minutes.
Here's how it works. Upon entry to the terminal, the driver is provided a designated lane number. The driver proceeds to the lane, where they then step out of the cab to wait in a secure access booth. A sensor inside the booth lets the crane operator know that the driver is safely inside and it's safe to proceed.
"My trucks are regularly getting in and out of TraPac in 40 minutes or less. For the other terminals in the harbor, one hour turn times are considered good."
Bob Curry, CEO, Cal Cartage
Convenient Rail Access
TraPac's terminal locations have access to national rail lines, which has led to reduced truck emissions and improves overall supply chain sustainability. TraPac's Oakland terminal is adjacent to two rail yards allowing for a quick transfer to BNSF and Union Pacific's rail lines. In Los Angeles, TraPac Los Angeles is the first terminal in the world to implement automated on-dock rail. The terminal provides 20,000 feet of on-dock track that allows 6 full-size trains to be sent out each day, or 1,440 TEUs, directly through the Alameda Corridor and connect to BNSF and Union Pacific rail lines. With the automated on-dock rail capacity and automated truck handling system at TraPac, BCOs can expect to receive their goods an average of 2 days faster than competing terminals.
Integrated Customs Scanning
TraPac's Los Angeles terminal was the first to collaborate with U.S. customs and Border Protection to move containers through the radiation portal monitoring system without taking the containers out of automation before being loaded onto our on-dock rail. The system enables TraPac to quickly process cargo without compromising on safety.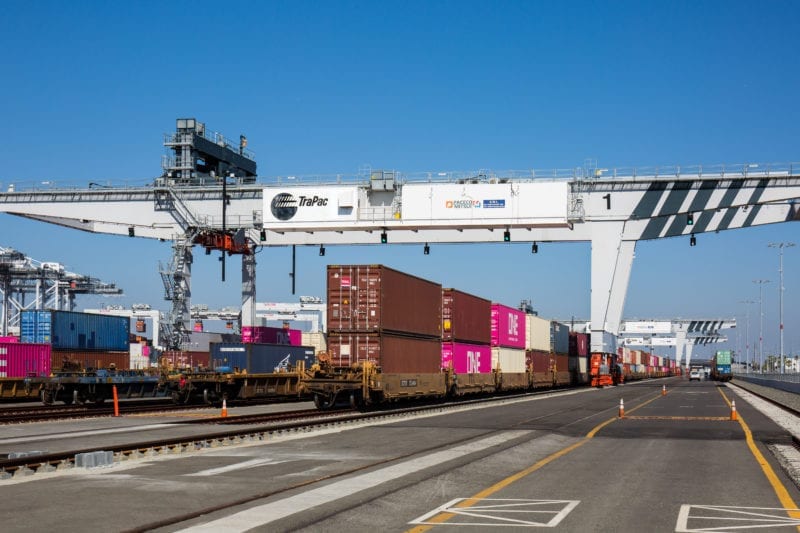 Featured Technology
Automated Rail Mounted Gantry Cranes (RTGs – On-Dock Rail)
The RTGs load and unload containers from the On-Dock Rail facility that connects to the Alameda Corridor, a 20-mile freight rail expressway that links the Southern California Ports to the national rail system.
The RTGs can build four full trains each day, allowing cargo owners to receive their goods up to 2 days faster than ever before.